Dental Implants in Mill Woods, Southeast Edmonton

Dental implants are restorative dentistry treatments created to replace missing teeth and their roots. The dental implants and their crowns work to provide patients with replacement teeth that feel, look, and function like natural teeth. This allows for individuals to speak, eat, and smile with confidence once again.
Dental implants are posts made of titanium that are surgically inserted into the jawbone to replace missing teeth. The bone fuses with the titanium posts through a process called osseointegration, creating a strong and healthy foundation for false teeth. Additionally, dental implants work to preserve the facial structure and prevent jawbone deterioration.
Why Should You Consider Dental Implants?
Dental implants can be life-changing. Here are some of the main reasons to consider dental implants:
Durability- while there are faster ways to restore a tooth, dental implants are the strongest and longest-lasting option. With the right care, dental implants can last for decades.
Comfort- since dental implants fuse with your anatomy, they feel very comfortable and natural in your mouth. They are also firmly anchored in your mouth, so you won't have to worry about them shifting like you would with dentures.
Jawbone preservation- without the stimulation from your natural tooth root, your jawbone will slowly begin to deteriorate. An implant will preserve your jawbone by mimicking the function of a natural tooth root.
Easy eating- compared to other dental restorations, dental implants are much more durable. This means that you can continue to eat all your favourite meals without worrying about damaging your implants.
Maintenance- once healed, dental implants act and look almost exactly like natural teeth. This also means that they require no special maintenance past a regular oral hygiene routine of brushing and flossing.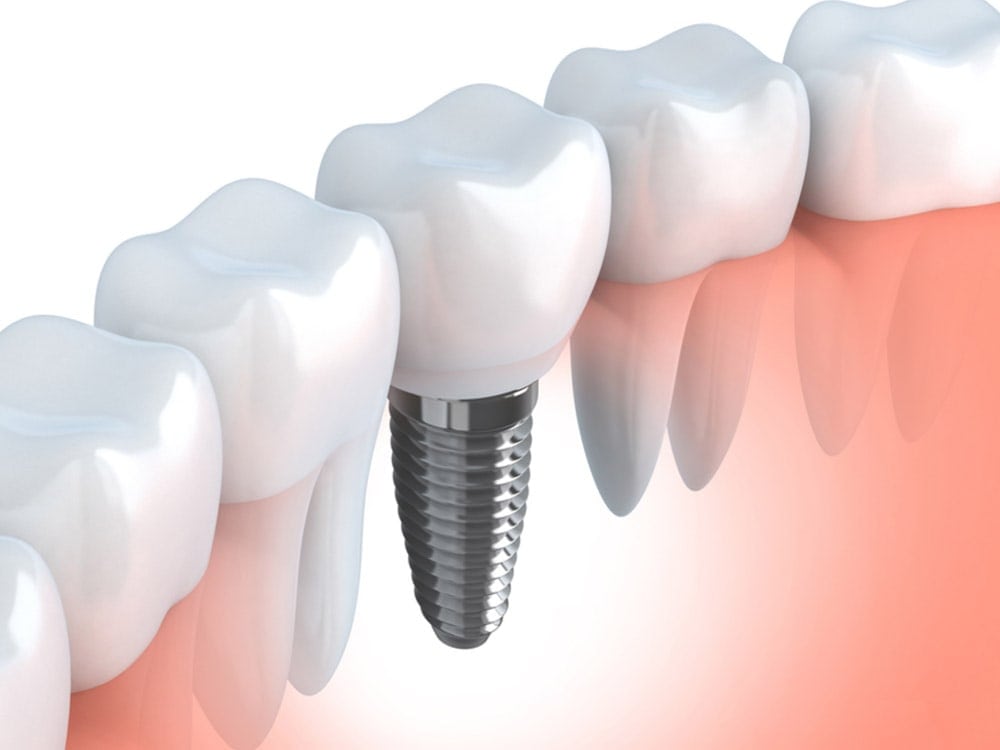 The Anatomy of a Dental Implant
Most dental implants have three main parts:
Implant post-the post is made of biocompatible titanium and serves as a replacement for the tooth root. Titanium is tolerated very well by the body and fuses with your jawbone through a process called osseointegration.
Abutment- this is a metal piece that attaches to the top of the implant post and secures the crown and post together.
Dental crown- this is the visible portion of the replacement tooth and is fitted on top of the abutment. Typically made from porcelain, it is custom-made to look and feel like your natural teeth.
Evaluation for Dental Implants
If you are interested in implant dentistry, you will need to visit a dentist for a comprehensive evaluation that will involve radiographs and a review of your health history. During this visit, your specific needs will be addressed by our doctor at Agape Dental Clinic Millwoods. Your concerns are important to us, and our dedicated team will work closely with you to ensure that your procedure is a success.
Bone Grafting and Socket Preservation
If your tooth has not already come out on its own, then your dentist will need to extract it to prepare your mouth for the implant procedure.
Once a tooth has been extracted, the bone around it and underneath it begins to break down. It deteriorates through two processes. The first is horizontal width loss which happens when the tooth is extracted, and the bone surrounding the socket deteriorates without the tooth to support it. After this, vertical height loss occurs, which is even faster when a patient is wearing dentures.
It is essential to save this bone even if there is no longer a tooth in that area. This is because you will eventually have to replace missing teeth. You will need strong bones in that area to help keep the replacement teeth in place and promote good oral health.
There are many types of bone grafting methods, and the one that works best for you will be determined based on your oral health and personal desires. In most cases, the socket of your missing tooth will be packed with a bone-like material and then covered with an absorbable suture. The grafting material will be used to support the tissue surrounding the tooth's socket. As the new bone grows, it will replace the bone graft and support your new tooth.
When is Bone Grafting Necessary?
If you have been missing a tooth for a long time or your jawbone isn't strong or thick enough, you may require a bone graft before qualifying for dental implant surgery. A bone graft can create a stronger base for the implant to use as an anchor.
Many materials can be used to rebuild a jawbone. Some options include a natural bone graft, which uses bone from another location in your body, or a synthetic bone graft, which uses a substitute bone material.
It can take many months for the transplanted bone to stimulate enough new bone to support the dental implant post. In some circumstances, you may only require a minor bone graft, which can be performed at the same time as your implant procedure.
Dental Implant Procedure
Dental implants are titanium metal anchors, which act as tooth root substitutes. They are surgically placed into the jawbone. Small posts (abutments) are then attached to the implant, which protrude through the gums. These posts provide stable anchors for artificial replacement teeth (crowns).
For most patients, the placement of dental implants involves two surgical procedures. First, implants are placed within your jawbone. For the first three to six months following surgery, the implants are beneath the surface of the gums, gradually fusing with the jawbone (osseo-integration). You should be able to wear temporary crowns or dentures and eat a soft diet during this time. At the same time, your dentist designs the final crown, bridgework or denture, which will ultimately improve both function and aesthetics.
After the implant has bonded to the jawbone, the second phase begins. Dr. Daya will uncover the implants and attach a small healing collar and can then start making your new teeth. An impression must be taken. The abutments are then connected to the implants. The replacement teeth are then made over the abutments. The entire procedure usually takes six to eight months. Most patients do not experience any disruption in their daily life.
Dental Implant Guided Surgery
There are two ways for doing implant placement surgery – freehand and guided surgery. Research studies comparing the outcome of freehand vs computer-guided implant placements found that statistically higher pain and swelling were experienced at sites treated freehand with flap elevations and less marginal bone loss was observed in the computer-guided group. (Computer-guided vs freehand placement of immediately loaded dental implants: 5-year post-loading results of a randomised controlled trial, https://www.ncbi.nlm.nih.gov/pubmed/29806667)
Agape Dental Clinic Millwoods uses guided surgery with surgical guides for implant placement surgery. Undoubtedly, the free-hand method has been used for many years now and is more cost-effective but we believe that the advantages of guided implant surgery far outweigh the extra cost associated with it.
Guided implant surgery, if done correctly, with proper images, can potentially provide a high level of precision and control, and can be invaluable depending on the complexity of the case and the anatomy of the patient, especially if the bone quality and quantity is not optimum.
Advantages of Guided Implant Surgery
Surgery can be precise, safe, and predictable.
Surgery time is shorter.
Generally carried out as a flapless surgery and shorter recovery time for the patient.
Less invasion, blood, and pain for the patient.
Bone grafts can be minimized.
Better positioning for the final crown restoration
With guided surgery, all the planning and "back and forth" with drilling, angulation, and depth is all figured out before the patient appears for surgery.
Disadvantages of Guided Implant Surgery (mainly for dentists)
Investment inexpensive equipment.
Surgery planning time takes longer.
Agape Dental Clinic Millwoods has invested in CBCT and iTero scanning equipment to facilitate guided implant surgery planning. 
Guided Implant Placement Surgery Process
CBCT scan of the hard tissue is taken and saved in DICOM file format. For the surface anatomy of gums and soft tissues, a digital scan is performed using iTero Digital Scanning System. The scan is saved in STL file format which is exported and merged with the CBCT scan file to provide 3D images to be used with the planning software in the treatment planning and design phase. The software is used for optimum positioning of the implant, taking into consideration any structures such as sinus and nerves, bone density and adjacent teeth. The procedure is from implant restoration or crown down process ensuring that when completed, the implant crown would be in the right position with correct bite, and esthetically better than the process which starts with implant placement and trying to fit in the crown.
Agape Dental Clinic in Millwoods, Southeast Edmonton offers dental implants near you. If interested, please schedule your FREE consultation with Dr. Naheed A. Daya, here on our website or by calling 780-465-1211.