We've Gone Virtual! We're Now Offering Virtual Orthodontic Consultations.
Have you been interested in receiving orthodontic treatment? With COVID, we understand coming in for a consultation can be a daunting task, with virtual consultations we make it easier for our patients to determine if they are a candidate for orthodontic treatment without having to come in for an in-person consultation.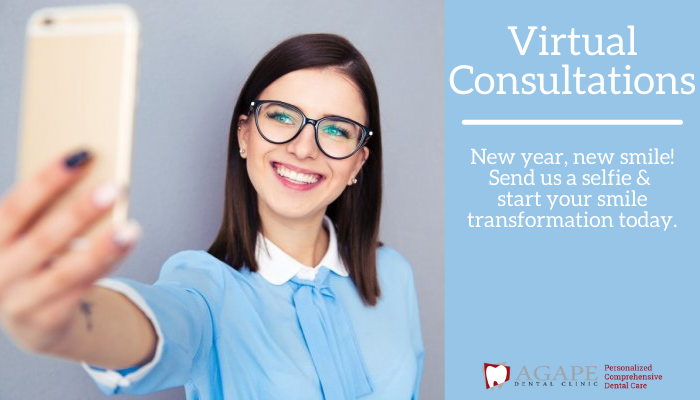 How Does the Virtual Consultation Work?
1. To get started, submit your information through our complementary consultation form as well as fill out our new patient form using ENlive (included below).
2. Once Dr. Naheed A. Dayahas received your request, she will set up a time that is convenient for you to conduct a video conference and discuss the possibilities of your treatment. Despite not having access to digital scans or x-rays, she will still be able to provide you with an approximate timeline of your treatment, estimated pricing, and whether or not she recommends braces or Invisalign.
3. During this virtual consultation Dr. Naheed A. Daya will have you use the spoon retraction method to see your bite at different angles. This involves using the curved end of a spoon to pull your lips and mouth away from your teeth to showcase your bite from all angles.
4. Once the stay-at-home order has ceased, we will have you come into the office to begin the treatment process.
What to Expect During Your In-Person Appointment
Once you have been introduced to Dr. Naheed A. Daya and the team, we will move on to taking virtual impressions of your teeth by using the iTero 3D Scanner. The scanner generates high resolution, accurate images of your smile and allows you to see your smile pre-and post-treatment in real-time. Based on the scans, Dr. Naheed A. Daya will be able to determine the course of your treatment as well as pricing. Our office offers Invisalign treatment that is priced lower than the Alberta Fee Guide. Our doctor and team are focused on accommodating our patients and catering to their specific dental needs.
We offer complimentary SpaDent teeth whitening and Vivera Retainers post-treatment to help complete your smile transformation. We can't wait to meet you… virtually!