Invisalign is the perfect alternative for straightening teeth without using braces. Not only are Invisalign aligners clear, they are also removable, making them truly discrete way of straightening teeth without anyone noticing.
What is Invisalign and How does it Work
Invisalign system consists of a series of clear aligners fabricated from lightweight acrylic. The aligners are made to your specifications to fit your mouth. Each aligner is designed to move the teeth slightly, about a fraction of an inch. Your exact teeth movements will be planned and determined by your dentist. Once that movement is achieved, the aligner is discarded and replaced by the next one in the series of aligners. Aligners are changed every week and the movement monitored by your dentist. This process continues until the desired results are achieved, usually between 6 months to 24 months, depending on the severity of the case
What Issues Does Invisalign Correct?
Invisalign is commonly used to correct the following issues:
Crowding
Unevenly spaced teeth (tooth gaps)
Overbites
Underbites
Crossbites
Benefits of Invisalign
Wondering what makes Invisalign such a popular option? The following are the main benefits of this orthodontic treatment:
Advanced technology
Invisalign treatment is entirely computerized. Your dentist will digitally map out the process to estimate the duration of your treatment.
Comfortable plastic aligners
Invisalign is made from high-quality materials which offer unparalleled comfort. Patients do not have to struggle with mouth sores, scratches, or overall irritation.
Easy to clean and maintain
One of the primary challenges of braces is removing food particles lodged between your brackets. This can lead to plaque buildup over time, tooth decay, and stains. With Invisalign treatment, you will simply remove your aligners to clean your teeth as you usually would.
No food restrictions
Braces are accompanied by the risk of food becoming caught in your appliance, damaging a wire or bracket. Invisalign allows you to remove your aligners each time you eat.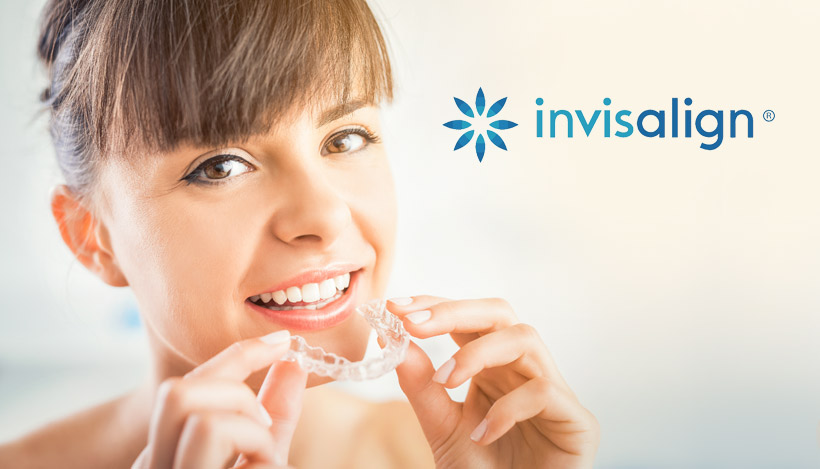 Invisalign Treatment Process at Agape Dental Clinic
Free Invisalign Consultation with iTero Outcome Simulation Scan.
Invisalign treatment starts with a consultation with Dr. Naheed A. Daya to determine your suitability for Invisalign treatment. Once your suitability is confirmed, treatment cost and length of treatment is discussed.
Orthodontic Records.
Once your suitability for Invisalign treatment is confirmed and you decide to go ahead with the treatment, orthodontic records are taken of your teeth. Your dentist will take pictures, x-rays, and digital scans using iTero of your teeth which are submitted to Invisalign to create a perfect 3D model of your teeth.
Invisalign treatment programming.
Once Invisalign receives your orthodontic records, it uses specialized computer software to create 3D model of your teeth and map out a series of incremental stages from your current teeth to your beautiful new smile. The treatment plan is coordinated with and approved by Dr. Daya. This process is termed ClinCheck. Once Dr. Daya hits the approved button, Invisalign starts the manufacturing of clear plastic aligners.
Treatment Commencement.
Clear, custom-made aligners will be created to follow your treatment plan. You will be required to wear the aligners throughout the day, for 20 to 22 hours, only removing them to eat, brush or floss. While the actual time frame may vary slightly, you will change your aligner trays to a new tray about every 7-10 days or as advised by your dentist. As you replace each aligner with the next in the series, your teeth will move- little by little, week by week – until they have straightened to their final prescribed position. You'll visit our dental office about once every four to six weeks to ensure that your treatment is progressing as planned. During that visit, a scan may be taken to ensure that your teeth are moving as planned or if a refinement is needed.
Treatment length
Varies depending on the amount of movement required. Total treatment time averages 9 – 15 months and the average number of aligners worn during treatment is between 18 and 40, but both will vary from case to case. Once treatment is complete, your dentist will advise you on aftercare. A retainer will be required to keep your new smile in perfect shape.
After Treatment and Preserving Results.
Before we sign off on treatment completed, a final scan of your teeth is taken to ensure that the teeth have moved and are in their correct position. Once that is confirmed, we ensure that the teeth remain in their current position by providing you with a retainer which is included in your treatment cost.We schedule follow-up appointments to ensure treatment results are preserved.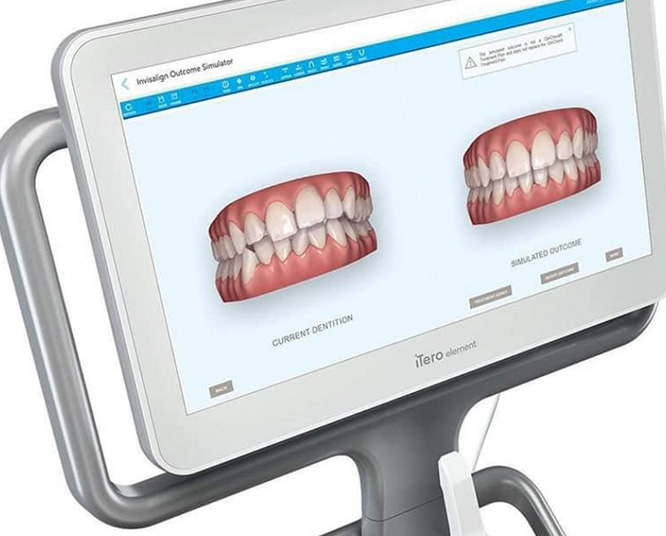 iTero Outcome Simulator for Invisalign Treatment
Want to see what your smile will look like before you start orthodontic treatment? You can at Agape Dental Clinic with Dr. Naheed A. Daya and the iTero® Outcome Simulator!
Experience the Outcome Simulator for Yourself!
With our Outcome Simulator, you will not only be able to preview your finished smile, you will also see the movements your teeth will make to get there. You will also see the dramatic side-by-side comparisons of your current smile and your simulated smile.
You will be able to see your smile simulation during your first consultation, so you can make an informed decision about your treatment without committing to anything first.
Your smile simulation will be available within minutes and is yours to keep, allowing you to view all angles of your smile, zoom in and out, and see before and after images, all from the convenience of your home.
The best part of the Outcome Simulator? It does not require goopy, uncomfortable impressions! Our iTero scanner takes high-resolution images of each tooth to produce an accurate, detailed digital impression.
Invisalign Treatment Offered at Agape Dental Clinic
Invisalign Comprehensive
Most adult patients seeking orthodontic treatment require major alignment of their teeth. For this reason, they require Invisalign Full treatment which consists of around 20 to 40 sets of clear plastic aligners on average. The number of aligners supplied will depend on the severity of each individual case.
Invisalign Lite
Some patients require minor corrections of their teeth alignment. These individuals will have only a few crooked or crowded teeth, minor gaps or misalignment of teeth, or minor relapse/shifting of teeth due to insufficient retainer use after previously completing orthodontic treatment. In these cases, treatment time will be shorter and less aligners will be required. Up to 14 aligners will be worn over the course of four to seven months.
Invisalign Teen and Invisalign First for Younger Children
Invisalign First Phase 1
Even if a child ages 7 to 10 (approximately) has baby teeth, Phase 1 Invisalign Orthodontic treatment can be undertaken to correct any existing bite issues and intercept and prevent any predicted ones. It is designed to treat a broad range of teeth straightening issues in growing children, from simple to complex, including crowding, spacing, and narrow dental arches.
Invisalign First Phase Two
Having gone through the Invisalign First Phase One treatment, if the child still needs additional minor corrections, to complete the treatment, our dentist may opt to use Invisalign Teen as Phase 2 of Invisalign First. This is undertaken once all the permanent teeth have erupted
Invisalign Teen
Inisalign Teen are made of the same material as Invisalign (for adults) providing an aesthetic, more flexible way of giving teenagers the confidence of a great smile. Being removable and invisible, teenagers can carry on enjoying life without the restrictions, irritation and self-consciousness often associated with metal brackets and wires.
Invisalign Teen have a few additional features
Coloured Compliance Tabs
The aligners that are designed for teens and younger children aged 7 and above have wear indicators to monitor compliance. This indicator on each aligner fades away with use, after wearing it for two weeks. This encourages the patient to wear the aligners and be more compliant. This helps with paernweing and collaborating with our patients to achieve desired results through active participation of being compliant in wearing aligners as required
Young Children – New Teeth Eruption Tabs
The aligners also accommodate the growth of erupting permanent (adult) teeth. Depending on the patients age, the teeth may still be erupting and this treatment will accommodate the growth of second premolars, second molars and canines.
Replacement of Lost Invisalign Aligners
Should the children lose their aligners, Invisalign Teen gives you option for 6 complimentary replacement aligners, instead of the 2 aligners provided under a regular Invisalign treatment
No Hidden Fees. Transparent Pricing.
All-Inclusive Price for Complete Treatment
TRANSPARENT PRICING

No Hidden Fees

AFFORDABLE

Low Pricing
Low Down Payment
Low Monthly Payments
0% Financing

FLEXIBLE HOURS

Evenings and Saturdays
Schedule That Works For You
Affordable Invisalign treatment for
 the Entire Family
$4000 – $7000 MAXIMUM

LOW PRICE
SEE INVISALIGN LITE FOR WHAT IT COVERS
COMPREHENSIVE TREATMENT HAS ALL INCLUSIVE PRICING. INCLUDES ORTHODONTIC RECORDS, PHOTOS, ALL RETAINERS, ADJUSTMENTS, EMERGENCIES
4 SETS OF VIVERA RETAINERS AFTER TREATMENT
TEETH WHITENING AFTER TREATMENT
0% PAYMENT PLANS
LOW MONTHLY PAYMENTS.
LOW DOWN PAYMENT
Invisalign Lite

0% Payment Plan
Low monthly payments

Invisalign Comprehensive

0% Payment Plan
Low monthly payments
Invisalign First Phase 1
Children ages 7 – 10


$4000

Includes orthodontic records and photos, adjustments, emergencies
Invisalign Teen Comprehensive


$6500


Phase 2 Invisalign First


$2500

Complete Invisalign treatment for misaligned teeth
Includes orthodontic records, photos, adjustments, emergencies
Vivera Retainers Post Treatment (4 Sets of Standard Invisalign Retainers)
Aligners come with compliance Indicators
Six Free Replacement Aligners
Invisalign Comprehensive for Adults


$6500

Complete Invisalign treatment for misaligned teeth
Includes orthodontic records, photos, adjustments, emergencies
Vivera Retainers Post Treatment (4 Sets of Standard Invisalign Retainers)
Why Choose Agape Dental Clinic
Completely FREE! No-obligation Invisalign Consultations with iTero simulation.
Weekend consultations available.
Dr. Daya is highly competent in Invisalign treatment having taken numerous specialty courses to enable her to offer the highest quality of care to all her patients
We treat numerous patients of all ages – from children ages 8 to Teens and Adults aged 65+
ALL INCLUSIVE PRICING. NO HIDDEN FEES! Fees quoted during consultation are all inclusive.
We are One Stop Comprehensive Dental Clinic so all your dental needs will be covered. You can have dental checkups + Cleaning and even Smile Enhancements with Invisalign using Teeth Whitening, Porcelain Veneers, Dental Crown or Dental Implants.
We work with you to get you the Smile you want. Check our Instagram pages (Agape Dental) to see cases of our combined Invisalign treatment with Porcelain Veneers, Dental Implants